Wedding Invitations...
Why settle for the ordinary?
Announce your event in style with custom drawn caricature invitations!
From serious to silly to sublime, the only limit is your imagination...
Please feel free to inquire about any ideas you may have!
Wedding Invitation Prices:
Prices reflect a base of €350 for the artwork.
The price of printing is then added on.
If you know a printer and wish to print your own cards, you just pay for the artwork!

If you would prefer to have me sort the printing, I can call my local printer for a quote.
There will be an additional €50 set up fee.
Your artwork will also be emailed to you for future use.
How to Order:
A deposit of €100 secures your order. You can either pay by cheque, Paypal, or online bank transfer.
Email me at least 3 good head/shoulder shots. A few helpful angles : Front, and 3/4 with your head pointed slightly left and right. Just snap them in the kitchen against a blank wall. Remember, the better the photos, the better your caricatures will be! LOOK AT THE CAMERA & SMILE!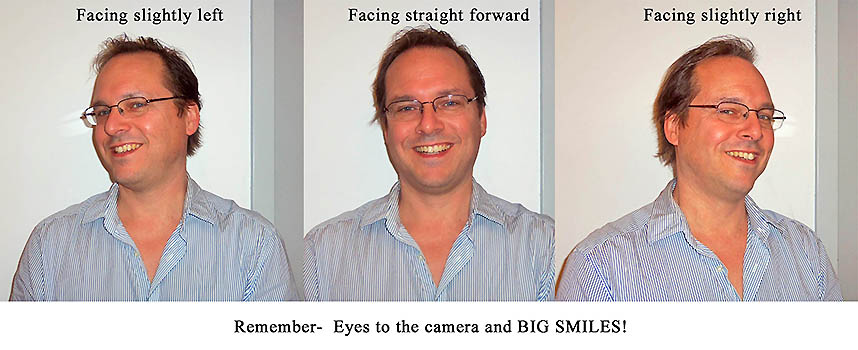 Now here's the fun part: Your poses and the background. Ideas include: Your hobbies, sports, honeymoon trip, dancing, superheroes, fantasy figures, etc...

And don't forget what you want printed on the inside!
Also available: Signing Boards! Instead of a boring guestbook, your guests can write their best wishes around your caricature!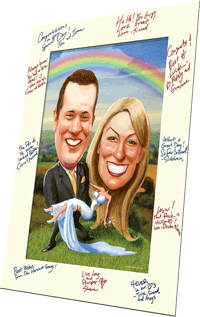 The signing board consists of an A3 caricature printed and professionally mounted and matted with a 15 cm border- Loads of space for best wishes and signatures!
Cost: €380
Shipping: €20
Invites & Entertainment Package: Hire me to entertain your guests and receive €30 off your invites artwork!
Invites & Signing Board Package: Order Invitations and get the Signing Board for just €100!
Entertainment & Signing Board Package: Order Caricature Entertainment and get the Signing Board for just €330!
Excited? Have a great idea for your card? CONTACT ME!