PARTY CARICATURE ENTERTAINMENT

FUN!
LAUGHTER!!
GREAT MEMORIES!!!
That's what CARICATURES are all about!!!
I specialize in glamour and action caricatures and have drawn crowds of all ages at both private and corporate events, including wedding receptions, trade shows, corporate events, and company holiday parties.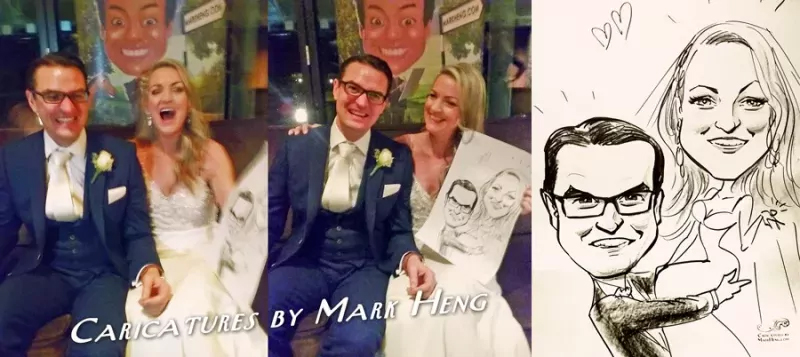 Why Should I Hire Mark Heng to draw my guests?
Because 30 years of experience matters-
I've easily drawn over 50 thousand people since I started in 1990 in Boston.
I can confidently say I'm one of the fastest, funniest, and best caricaturists in Ireland- And modest, too!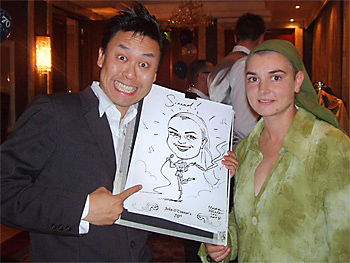 Me and a certain very famous Irish singer...
How much does it cost to hire Mark?
Afternoon reception: 3-6 p.m.- €520
After the meal: 9 p.m.-midnight- €620
Both the afternoon and evening- €920
A modest travel fee will be included in the final quote.
A deposit of €100 secures your date and the remainder is due on the day of the event- Easy!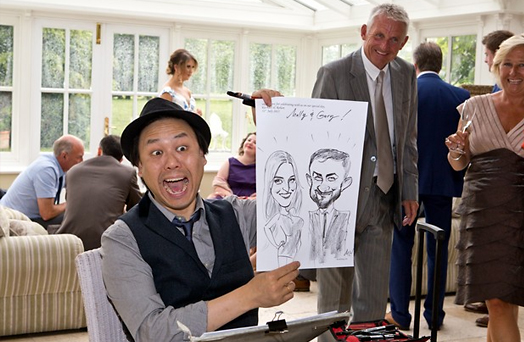 From Rachel & Robert's real wedding by David Maury Photography
Great! How do I book Mark for my party?

-You contact me with the DATE & LOCATION for your event. I'll make sure I have it available and email you a quote that includes travel.
-A deposit of €100 secures the date.
-I show up to your event appropriately dressed and ready to set up early.
-I draw your guests with little cartoon bodies!
5-6 minutes per person.
The paper is A3 size and I provide plastic covers- Everyone gets a laugh showing them off all night long!
-I can print your names and the date on the paper, or a company logo.
Help your guests remember you and your special day!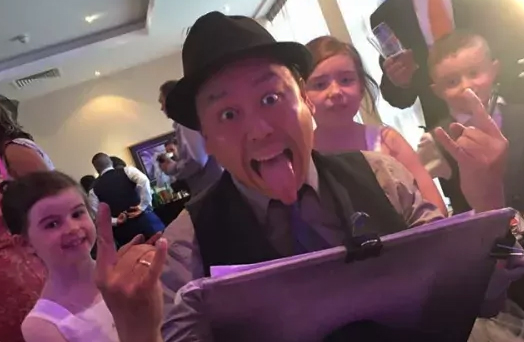 Where can I see recent samples of Mark's work?

Follow my Facebook Caricature Page for loads of samples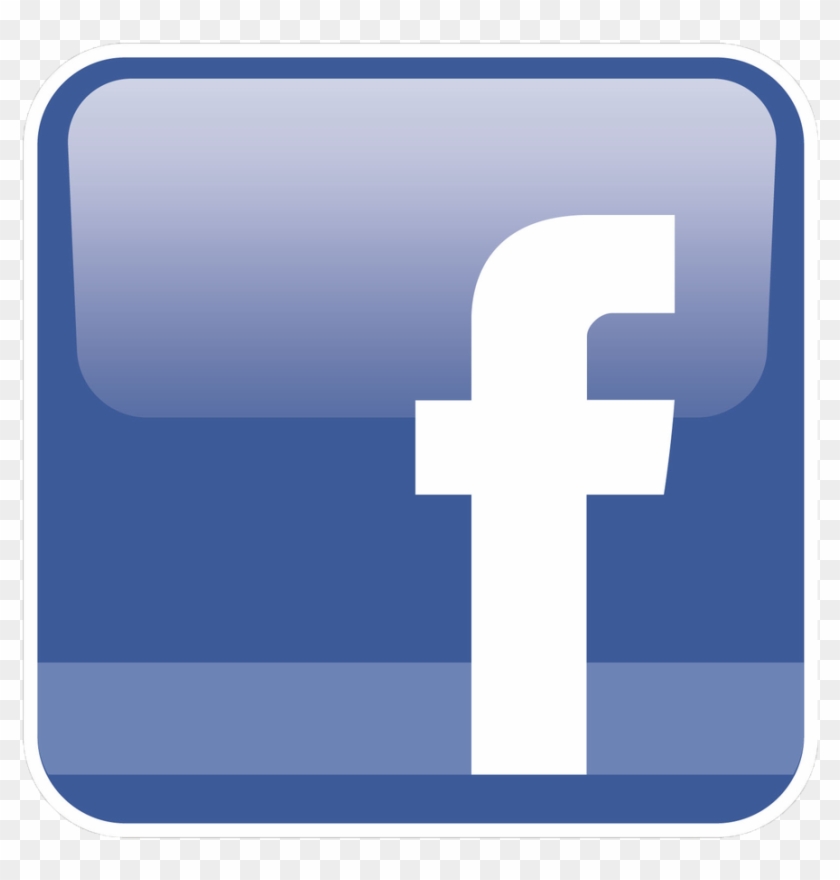 Contact me to discuss your next party!
MarkHeng3000@gmail.com
086 2358463
Also available: Gift caricatures and Caricature Invitations
Mark,
Once again thanks again for helping in making our wedding day such a success!
All our guests really enjoyed having the sketches done as you can see from the video ;)
Thanks again,
Lisa & Ronan
Me in action shot by Dan Devane Video
NEW- Digital Party Caricatures, Live and Online!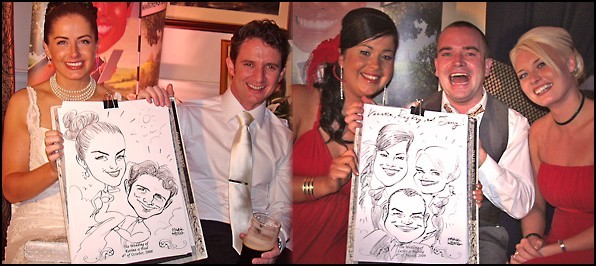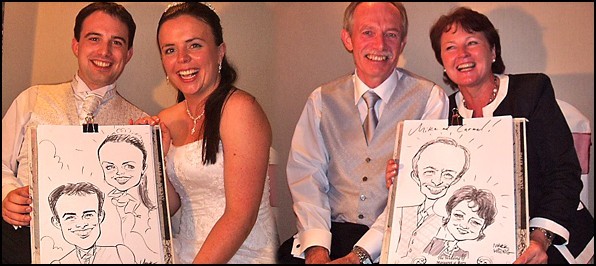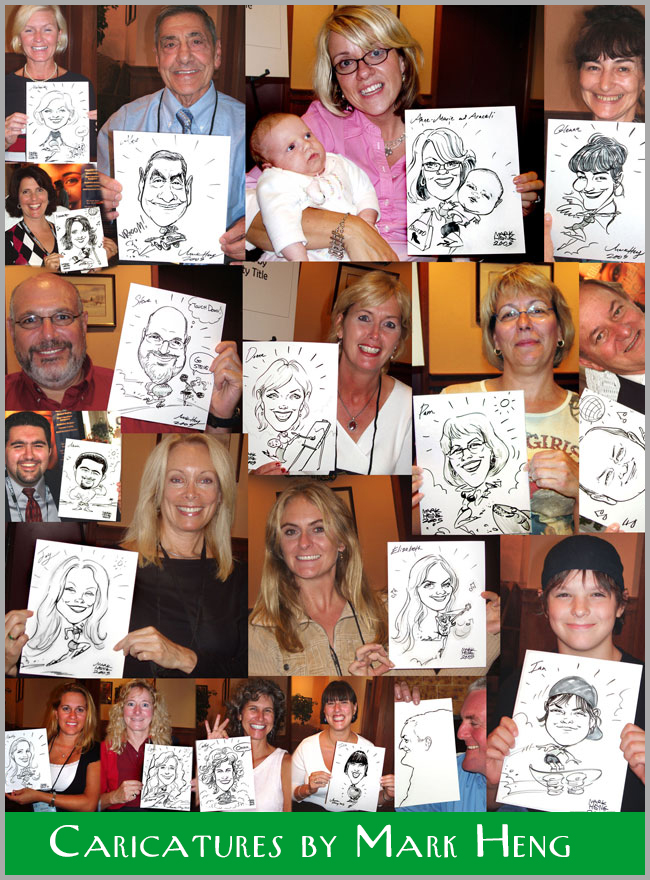 Testimonials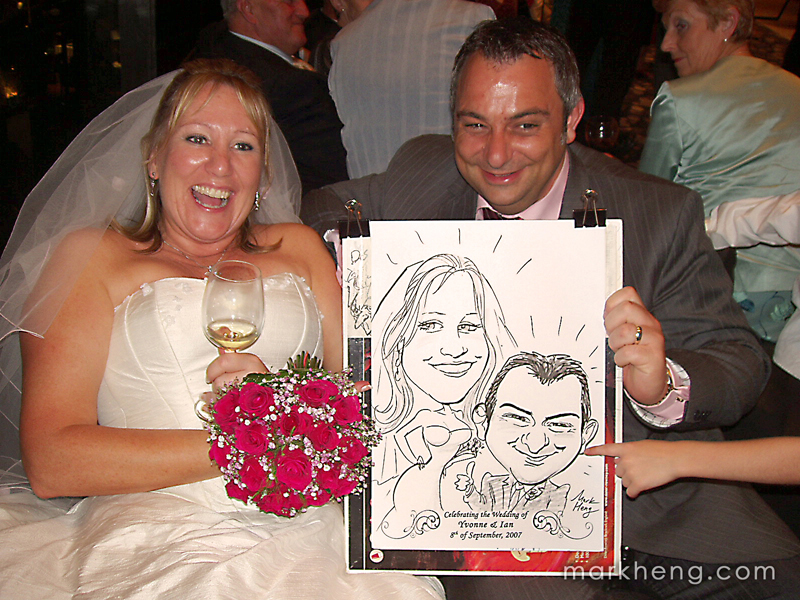 Yvonne & Ian's Wedding Reception at the amazing Whites Hotel in Wexford!
For more pics from the night, go to my BLOG.
Hello Mark,
Having returned from a very extended and fantastic honeymoon I accessed my mums emails (as she is computer illiterate) and found the fantastic photos that you sent through. I just wanted to let you know that both Ian and I and all our guests thought the caricatures were brilliant. I think the only complaint was that not everyone managed to get one done due to the high demand on the day!
I can say without hesitation that we would definitely recommend you to all and would ask you to come to any further parties that we may have.
Thanks,
Yvonne and Ian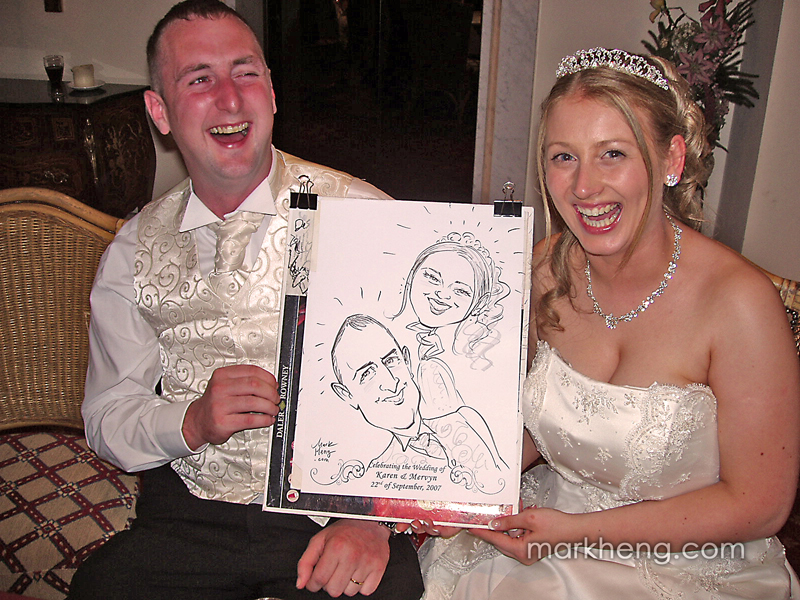 Karen & Mervyn's Wedding Reception at the beautiful Bridge House Hotel in Tullamore!
For more pics from the night, go to my BLOG.
From Karena Shaughnessy, sister of the groom:

Oh my god, This was the best idea ever! Every guest loved it.... Its a brilliant keepsake as well with the special touch of the printed paper saying the name of the bride and groom and date. It kept people occupied and the laugh that was had! Unreal! Thanks a million Mark.....It was great!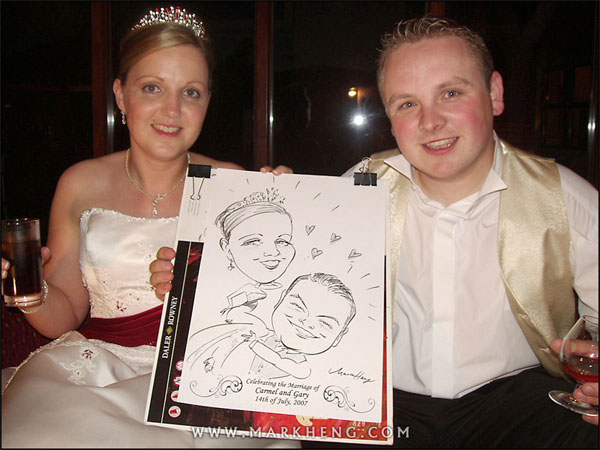 Gary & Carmel's wedding reception in Killaloe! For more pics from the night, go to my BLOG.
Mark

Thanks for Saturday 14th July 2007, you were one of the highlights of the wedding.

We booked you for our wedding on the 14th July 2007. It was our suprise to all our guests,we told everyone during the speeches, it was our way of saying thanks to everyone for there help. It was a great success, everyone was thrilled, it was something unique but excellent. I thought it was an excellent idea of myself and my husband's name and wedding date at the bottom of each sheet was great, a memory for the guests.

Thanks again and wishing you all the success in the future

Carmel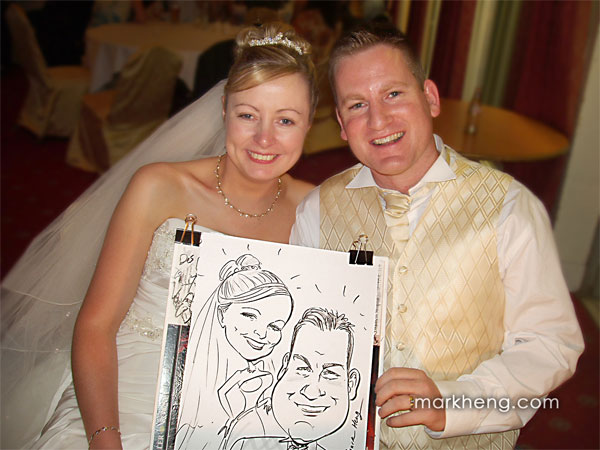 Claire and Don's wedding reception at The Clare Inn! More pics on my BlOG.
Hi Mark,

Hope you are well.
Thank you so much for making our Wedding Day so special.
Everybody got a great kick out of your work.

Claire & Don Murphy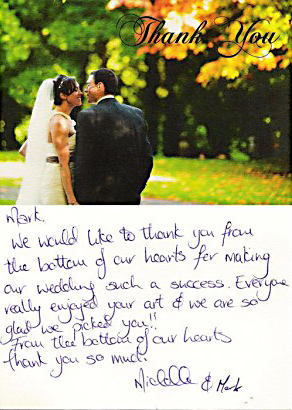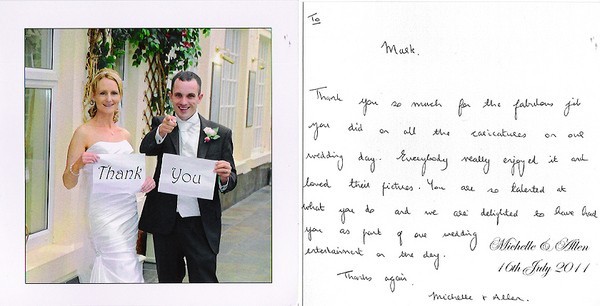 30th July Wedding
We can't thank you enough for your caricatures, it was the something different we needed to make our wedding special. Everyone had a great laugh and they will treasure their pictures. You really captured Richard so well you have a great talent. 
Kind regards 
Clair 
3 August 2022
Mark did the caricatures at my wedding in July in Kilkenny. He did an amazing job and it was a great form of entertainment for the guests. The guests were delighted with their caricatures, and some of them were absolutely hilarious. I just wish I had him longer so more guests could've had their caricatures taken. I also asked Mark before the wedding to make a caricature of my husband and I, so that the guests could sign the mounting/ frame on the day. This is now hanging in our sitting room and it's a beautiful daily reminder of our wedding day with all the messages from the guests. Thanks a mill Mark !
Myriam El Gemayel
1 January 2019

Hi Mark,
Eoin and I want to say a massive thank you for being a part of our special day. Everyone got great enjoyment out of the drawings on the day even my Nan so thanks for that. 
Wishing you all the best for the future. 
Kind Regards,
Samantha & Eoin
5 June 2018
Hi Mark,
We thought we'd just send you a few words now that everything is done and dusted. Thank you so much for everything. It was wonderful to meet you again and get a second caricature and every single person at the wedding loved theirs. They were a talking point the whole weekend with everyone comparing and praising.
Thanks again,
Niall and Susanna
21 November 2017
Hi Mark,
Just sending an e mail to say thanks again for being such a big part of our wedding in the Vienna Woods & making it so special. People really took to it & were asking how we found you.
Happy New Year & best wishes for 2016
Best Regards,
Clare & John
2 January 2016
Dear Mark,
Conor and I just wanted to thank you so much for your time and service at our wedding. It was a huge success and so many people commented on how amazing the pictures were. We also had people ask for your details which we of course passed on for their weddings. I will write a review on your website as well but just wanted to thank you via email as well. Thank you for making our day even more memorable!
Jamie Ann and Conor Murphy
Hi Mark,
We just want to say a massive thank you for creating magnificant illustrations of our guests on our wedding day, the queue was never ending. U were a massive hit and we couldn't recommend u enough.
Thanks again,
Amanda&Brendan
3 November 2015

Hi Mark,
On behalf of Kenneth and myself we want to say a big thank you to you :) Your caricatures were amazing! Throughout the day / night guests were raving about how good you are. I would also like to thank you for the additional time you gave us to finish off the caricature of my friends parents, Claire & Greg. They had been in the queue for a while but unfortunately I think a family member or two of mine, skipped them..! So thanks again! They were delighted with it and have it framed and hanging in their house already!
Thanks again Mark and we would highly recommend you to family and friends. All the best for 2014!
Regards,
Leesa